Roof Repair
Call 647 - 521 - 7883 to have your roof repaired. 24 / 7 Emergency Service.
Damage to the roof does not mean that it has to be replaced, nor should you ignore it and defer roof repairs. Pro Roofing provides residential and commercial roofing repairs in Toronto and GTA for asphalt shingles, flat roofs, metal, cedar, slate / clay tiles and commercial / industrial roofs.
Shingles Roof Repair
Broken shingles are carefully removed first. Any roofing cement under is scraped until the opening is clean. In cases where the shingles are blown away by the storm, protruding nails are removed. New shingles are slid into the gap, with front edges aligned with shingles on each side and back edges under shingles in row above them. Corners of overlapping shingles are lifted and fastened with galvanized roofing nails. Nail heads are covered with roofing cement for protection.
After roof shingles repair, the chimney flashing, the flashings around vents and vent pipes are inspected.
When shingles are broken, they are replaced with new ones during roof repair. Curled-back shingles which are intact are reattached with asphalt roof cement. In warm weather, they are simply straightened out, but in cold weather, shingles become very brittle and must be softened before they can be flattened out. To soften a brittle shingle, a propane torch with a flame-spreader nozzle is used. The flame is carefully applied to the curled edges of the shingle; it should get just warm enough to soften but not hot enough to catch fire.
Flat Roof Repair
Types of flat roof repairs we do: Rubber, EPDM, Membrane, Torch on Roofing, Modified Bitumen Roof, Roll Roofing.
Flat roofs are built up of layers of roofing felt and tar. Flat roof leaks usually occur at low spots or where the roofing felt has been damaged. In most cases, flat roof leak is directly below the damaged spot and the damage to the roofing felt is easy to see.
If there's still water pooled in the leak area, it is moped up with rags, and left to dry. Gravel is brushed off. Damaged area is repaired with new materials.
To repair flat roof get in touch with Pro Roofing and ask about flat roofing repair 647 - 521 - 7883.
Metal Roof Repair
Pro Roofing can repair your metal roof by replacing the damaged part with a new metal roof sheet, or reinstalling / repairing roof flashing if there's a problem with it.
Types of metal roofs we repair:
aluminum
tin
steel
copper
corrugated
zinc
lead
Tile Roof Repair (Slate, Clay, Concrete)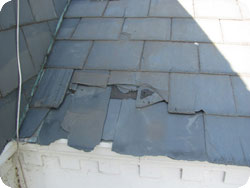 Pro Roofing also specializes on tile repair - slate, clay or concrete. If you have broken, cracked or loose tiles, ridge cappings, pointings or hip cappings (external corner of your tile roof), and a leaking roof as a result, get in touch with us.
It is very common for tile roofs to leak during heavy rain especially when there is strong wind, which blows the rain under the tiles into the cavity between the roof sarking (foil faced vapour barrier under roof tiles). If the sarking is old and torn, your roof is likely to leak badly and cause internal damage. In this case a replacement is recommended. If sarking is OK, the problem can be repaired.
Another common problem with roof tiles is that when they age they oxidize and lose their colour. The tiles then become porous and become like a sponge, holding water when it rains. Your roof can be restored as long as the roof sarking is intact and in good condition. Generally any broken tiles are replaced, the ridge and hip cappings are repointed, then the roof is washed down and painted to a colour of your choice.
Commercial Roofing Repair
Save yourself thousands by getting the job right first time and by replacing only the area of your roof that needs replacement. Our methods ensure a smooth, weatherproof finish by professional commercial & industrial roofers.
We undertake many different types of factory cladding and roofing refurbishment projects. Asbestos replacement and over cladding can be undertaken whether asbestos sheeting is present upon the roof or on the walls as cladding. All of our works are carried out in line with current building regulations and guidelines.
Cedar Roof Repair
Cedar Shingle Repair
A typical wood-shingle house is covered with thousands of individual shingles and, over time, it's inevitable that a few will split or become damaged. A chisel and hammer is used to split the shingle into several narrow pieces. Shingle is then removed with pliers. A new shingle is placed instead of the old one and secured by galvanized cedar shingle nails.
Cedar Shake Repair
Repairing a wooden shake roof is similar to repairing a cedar shingles:
Broken shake is split into several pieces with a hammer and a chisel. Pieces of broken shake are pulled out.
Since shakes aren't flexible like shingles, it isn't possible to pry out nails. A hacksaw is used to cut off nail heads as far down nail shaft as possible. If nails can't be reached without damaging other shakes, work is performed around them instead.
A gap left by the old shake is measured, and the new one is cut about 3/8 inch smaller than the measurement. The 3/8 inch clearance is necessary because the cedar shake will swell the first time it rains.
New shake is installed. If the nails that held the old shake were cut, the new one is just slid into its places, with the top edge under the overlapping shingles. It is then nailed with two galvanized roofing nails. If the old nails were not cut off, the new shingle will have to be cut to fit around them. The shake is pushed up into the gap hard enough so edge is marked by the old nails. The slots for the nails are carefully cut with a coping saw.
Once new shakes are in place and nailed, caulking is applied on nail heads.
Pro Roofing offers cedar roof repair, cedar roof treatment, cedar roof cleaning and cedar roof maintenance.